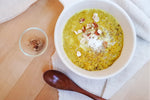 Turmeric is a spice that has been used for centuries in Asia, and was adopted by the west in recent times. It can satisfy your appetite and keep you healthy with its associated benefits. Turmeric has been used in cooking during ancient times, and is used today to create modern food recipes. Turmeric is of golden color, and it can add some new appeal to foods in need of character.
Preparing oatmeal that contains turmeric is easy, check out the recipe ingredients here:

2 tablespoons

clarified butter

or olive oil

 

2 tablespoons chopped raw cashews

 

1 ta

blespoon pumpkin seeds.

 

1 tablespoon raw sunflower seeds

 

1 teaspoon poppy seeds




½ teaspoon fennel seeds, finely chopped

 

½ teaspoon ground turmeric

 

¼ teaspoon cayenne pepper

 

Kosher salt

 

Overnight Oats




227g of plain whole-milk Greek yogurt

 

2 tablespoons nutritional yeast

 
Preparation:
The initial step is the heating of olive oil in a small cooking pot at a medium temperature. After the oil is heated, add some cashews, poppy seeds, sunflower seeds, fennel seeds, turmeric and cayenne. Now cook and stir constantly till the nuts are toasted and the seed starts to pop up. Do this for about 4 minutes and remove it from heat and season it with salt. 




Divide the oats and yogurt in equal servings, putting yogurt into centre.

 

Sprinkle nutritional yeast on it and top it with cashew mixture. You can sprinkle some olive oil on it if you like.

 

The last step would be to prepare the cashew mixture 4 days earlier of the recipe day. You can cover the mixture and put it into a fridge to get things to the right moisture and temperature. Make sure you warm the olive oil before serving.

 
Health Benefits of this Recipe 
As turmeric is a natural source of inflammation, your body will stay protected from toxic bacteria, viruses, or injuries. Eating this dish regularly can help boost your immune system.

 
The recipe will work as an antioxidant for your body and prevent you against the damage of your body's cells.

 
Try the recipe and prepare it for your family and friends and they will get impressed with your cooking skills!