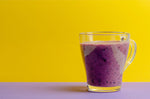 Once you try this healthy vegan bilberry smoothie packed with antioxidants you'll never look back!
Smoothies are a fantastic way of providing your body with all the nutrients it needs in super quick time. Simple and delicious, smoothies are suitable for children, adults, seniors and even toddlers, as they are easily digestible for most people. They can be a healthy breakfast choice - but how do you decide which smoothies to go for among the thousands of recipe combinations on offer?

Relax - there's no rocket science involved. You only need to add one little thing.

And that is the humble bilberry! 

Bilberries are not to be confused with blueberries, although they do have some similar attributes. However, bilberries pack way more of a nutritional punch than blueberries. Don't underestimate this tasty miniature berry by its size; it is loaded with high quality antioxidants, vitamin K, vitamin C, iron, potassium and calcium, as well as other healthy nutrients that will give you plenty of energy. What's more, bilberries contain optimal levels of immune-boosting antioxidants called anthocyanins and anthocyanidins, to keep your immune system strong and robust.
Bilberry for wholesome health and longer life 

Vegan  

Bilberries pack such a nutritional punch that they make a great choice for vegans. They contribute to overall health and can avoid the potential health risks associated with an unhealthy diet with a lack of nutrients. So, if you're super protective about your family's health and wellbeing, consider the bilberry worthy of taking pride of place on your kitchen shelf. 

Extremely high nutritional value 

You'll find it reassuring to know that just one single bilberry offers around 85 calories, 15 grams of naturally occurring sugar and an optimal amount of manganese and vitamins C and K. These vitamins and minerals can shield your body from seasonal infection, flu, stomach upsets, inflammation and potentially even deadly diseases like cancer. 

Helps you achieve a healthy glow 

Bilberries are widely used in cosmetics such as makeup removers, exfoliators and cleansers, as they are rich in both vitamin C and vitamin E. Bilberries' properties help in skin lightening, moisturising and toning, giving younger-looking, smoother skin.  

Blessing for the eyes 

Research has shown that bilberries can improve vision in cases of gradual sight loss or in cases of glaucoma, particularly in night vision. In fact, bilberries have been shown to improve the eyes' functionality by 30% if eaten on a regular basis. Bilberries were also found to eliminate eye dryness and other symptoms of eye fatigue caused by the ever present blue light of our digital displays. 

Keeps your heart healthy  

Anthocyanins, the primary antioxidants also found in blueberries, have been discovered to be helpful and effective in reducing risk of heart disease by 32%. Apart from Anthocyanins, the other antioxidants found in bilberries are effective in reducing the risk of diseases like cancer, as well as lowering inflammation. Bilberries can also provide benefits to the mind. They contain vitamin B9 (also called folate), which is responsible for boosting your DNA synthesis and cells' repairing function. Folate can also help prevent the formation of cancer cells from DNA mutations. 

In short, it is certainly true that bilberries hold a great deal of goodness in their small size.
If you want all the benefits of younger-looking skin, bright sparkling eyes and a healthy heart, then you must try this simple and tasty smoothie recipe which takes only two minutes to prepare! 
Healthy bilberry smoothie 

We highly recommend using natural sweetener to keep the nutrient value high. In this recipe, we are using honey as a sweetener, so if you're on a particular diet, this recipe can help to keep your weight under control. 

Ingredients 
225g of frozen bilberries (unsweetened)  
110g of non-fat or 1% low-fat milk 
110g of non-fat plain yoghurt 
1 teaspoon honey 
Method
Take all ingredients and put them into an appropriate container. 
Blend them all until they make a smooth liquid. 
Serve immediately with a topping of little b
What is the best time of the day to eat bilberry recipes? 

The answer will completely depend on why you want to include bilberries in your diet. If you're using bilberries as a way to stay healthy while working, then consider tucking in anytime you need a boost. This can be in the morning, at lunchtime or in the evening too.  

Overall, bilberry smoothies are best as:
A morning power booster or a power breakfast 
Part of your pre and post workout routine 
Lunch on the go