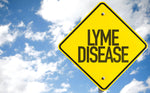 What are the best herbal supplements for treating Lyme disease?
Lyme disease is an infectious disease caused by the bacteria B. burgdorferi, which is transmitted to humans by a bite from an infected tick. [1] Most Lyme disease patients are successfully treated with antibiotics. However, a large number continue to experience symptoms for months or years despite treatment. This is called post-treatment Lyme disease (or chronic Lyme), and symptoms include fatigue, memory problems and aching joints or muscles. Herbs can be helpful in relieving these symptoms and shortening the recovery period.
We've got the lowdown on using herbal remedies to manage Lyme disease symptoms safely and effectively, as well as some useful facts on why they're a helpful tool when treating this condition.
Why do herbal remedies help to relieve Lyme disease symptoms?
Most patients with Lyme disease are treated with antibiotics based on the guidelines issued by the NICE (National Institute for Health and Care Excellence). These guidelines recommend the use of antibiotics for three weeks following infection. [2]
Lyme disease treatment is most effective in the early stages. Unfortunately, precious time is often lost due to delayed or incorrect diagnosis. For example, sometimes the infection is not recognised quickly, or the symptoms are mistakenly attributed to ringworm. In these cases, treatment with antibiotics is often less effective and the infection may persist, resulting in chronic Lyme. In addition, the symptoms of chronic Lyme - such as weakness and joint pain - may be confused with those of chronic fatigue syndrome or rheumatoid arthritis, resulting in improper treatment.
In chronic Lyme, herbal remedies aim to treat the underlying cause of the illness. They offer a holistic approach to the management of Lyme disease by strengthening immunity, boosting energy levels and controlling inflammation.
Read on to learn more about the specific herbs that have shown immense potential in the treatment of Lyme disease.
Safe and effective herbs for relieving the symptoms of Lyme disease
Japanese knotweed (Polygonum cuspidatum)
Japanese knotweed root may provide faster relief from Lyme disease symptoms by acting as a natural antioxidant. Research studies have revealed that Japanese knotweed possesses a powerful antioxidant called resveratrol that could improve your energy levels and protect your heart and brain against oxidative damage. This herb also offers a natural antimicrobial activity against Burgdorferi Borrelia bacteria and helps to clear the infection rapidly. [3]
Turmeric provides a rich source of a bioactive compound called curcumin which may have antimicrobial and anti-inflammatory properties, thereby reducing the symptoms of Lyme disease. [4] [5]
The use of black pepper is considered beneficial for patients with Lyme disease who suffer from severe joint pain and body aches. The antimicrobial, analgesic and anti-inflammatory properties of this herb provide relief from these symptoms and allow patients to perform their routine activities with ease. [6]
Cat's claw bark (Uncaria tomentosa)
The antimicrobial potential of uncaria tomentosa has been found to be comparable to that of antibiotics like doxycycline, commonly used in the treatment of Lyme disease. Uncaria tomentosa can also be used in combination with Andrographis (Andrographis paniculata). Both of these herbs have a natural anti-inflammatory action and minimise damage to the tissues, thereby allowing patients to recover faster. [7]
References: 
https://www.ncbi.nlm.nih.gov/pmc/articles/PMC6480773/

https://www.nice.org.uk/guidance/ng95/chapter/Recommendations#management

https://pubmed.ncbi.nlm.nih.gov/32154254/

https://www.ncbi.nlm.nih.gov/pmc/articles/PMC4022204/

https://www.ncbi.nlm.nih.gov/pmc/articles/PMC4374920/

https://www.ncbi.nlm.nih.gov/pmc/articles/PMC4648884/

https://www.ncbi.nlm.nih.gov/pmc/articles/PMC6337116/
***Content of this blog/website is for information purpose only. It is not intended to substitute for legal or medical advice, or medical treatment or diagnosis. Consult your health care provider if you are experiencing any symptoms and before using any herbal product or beginning a new health regimen. When wildcrafting or foraging for plants, do so ethically; be accompanied by an expert; and always have absolute certainty of plant identification before using or consuming any herbs. by using any or all of this information, you do so at your own risk. No warranties are expressed or implied. Any application of the material provided is at the reader's discretion and is his or her sole responsibility.