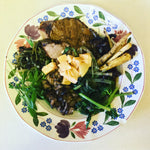 Winter foraging and wishing you 2021 blessings. The new plants appearing in the depths of winter bring with them hope for world change and renewal.
Well 2020 was a rollercoaster year to say the least! Yet on the ground, at soil level, Nature continues to show her constancy as - inevitably - the seasons change and one year passes the baton to another. I am sure that we are all hoping for a much better 2021. Aside from my personal resolutions and dreams, I truly hope that 2021 will be a fresh start for humanity's relationship with the natural world. Gaia, Planet Earth, Nature - this incredible home of ours.
Many people think that all the plants and fungi die in the winter and are surprised at how much you can still forage. There are some plants, for example pink purslane (Claytonia siberica), that wait for the competitive grasses and buttercups to die back, and start their growth in November. Pink purslane tastes as if spinach and cucumber got together to make this fleshy leaf that survives the winter frosts. Needless to say it makes a delicious winter vegetable. Tiny leaves of lesser celandine (Ranunculus ficaria) are also appearing to add to winter salads. I eat them from now until they flower in the Spring when their leaves can become a little acrid. The elder trees already have leaf buds and the hazel is festooned with catkins. Bright orange berries cling onto sea-buckthorn bushes right through into January.
These little signs of new life, despite the snow and ice, are evidence of the resilience of the life force at work in the world. They bring me hope, for - no matter what - out of disaster, death and destruction new life always emerges.
I am writing this at dawn. The sun is just starting to peer through the black silhouettes of bare beech branches, cast against a grey and orange streaked sky, at the snowy fields around me. I can totally understand how ancient cultures worshipped the sun. How faithfully it rises every day. Always reliable no matter what happened yesterday. It grounds me and reminds me that we are very small beings in a huge cosmos in a sliver of time. Given time, all things heal, but my heart goes out to those who have lost a loved one to the virus this year.
Nature continues to quietly bless us with gifts. Presents of peace, refuge and contemplation as well as the bounty of wild food. And I have appreciated her seasonal offerings even more than before, against a backdrop of threatened food shortages as lorries backed up in Kent, the uncertainty leading to a shoddy last-minute Brexit 'deal', the need for over 2,100 food banks used by 1.9 million British people without a living wage who struggle to feed themselves (up from 26,000 in 2008/9) and the national shame that UNICEF has stepped in to feed hungry British children this winter. In winter especially, I never take food or nature's generosity for granted, and I am also grateful that I have learned the skills of survival and preserving food for the winter.
At Christmas I visited my mother who is 81 and who has found the year, cooped up in isolation at home with little social contact, challenging. She bravely joined me in sharing a 'wild Christmas dinner' with me - although on her plate (but not mine) I added some roast potatoes (Solanum tuberosum) and carrots (Daucus carota sativus) from my garden and one roast shop parsnip (Pastinaca sativa). Below I have itemised the wild species that all contributed to our Christmas celebration and I sincerely thank each and every one of them.
Christmas lunch consisted of: sheep sorrel (Rumex acetosella) dressed with a little homemade crabapple (Malus sylvestris) cider vinegar; steamed alexanders (Smyrnium odoratum) and tuberose comfrey (Symphytum tuberosum) leaves; roasted alexanders and wild fennel (Foeniculum vulgare) roots and tuberose comfrey tubers; roast venison from a deer (Capreolus capreolus) culled for eating a local farmer's crops and given to me; porcini mushrooms (Porcini edulis) that I picked and froze in the autumn; some fermented wild garlic leaves (Allium ursinum) from last spring; pickled chicken of the woods mushroom (Laetiporus sulphureus). The gravy was thickened with porcini powder. The mustard was made of black mustard seed (Brassica nigra) blitzed with homemade vinegar and not one wasteful piece of tinfoil or clingfilm was used in the entire meal.
(My totally foraged Christmas Lunch)
For pudding I made some little cakes from a mixture of chestnut flour with ground dock seed (Rumex obtusifolius) and nettle seed (Urtica dioica), a beaten organic egg from my Cuckoo Maran hen (Gallus gallus domesticus), sweetened with birch sap syrup (Betula pendula) and - to give them a truly Christmas spiced citrus flavour - infused with orange sea-buckthorn juice (Hippophae rhamnoides), spiced with ground common hogweed seed (Heracleum sphondylium) and some cranberries (Vaccinium vitis-idaea). After 20 minutes in the oven I glazed them with rosehip syrup (Rosa canina) which oozed into the cracks to moisten them and make them decadently sticky!
Lunch was served with a vintage bramble wine (Rubus fruticosus) from a batch I made in 2013 and ended with my mother's 2015 sloe gin (Prunus spinosa).
On Boxing Day, I had pretty much the same again, with the addition of roasted pignuts (Conopodium majus) - my favourite, baked feral apple (Malus domesticus) and Yorkshire puddings made from ground chestnut flour (Castanea sativa), served with gravy thickened with brown birch bolete (Leccinum scabrum) powder. The puddings were cooked in olive oil (Olea europaea) that had been drained off the previous day's pickled mushrooms.
Boxing Day dessert was a panna cotta made by extracting the 'milk' from hazelnuts (Corylus avellana) and boiling it with carragheen seaweed (Chondrus crispus) to set it into a wobble. The bottom layer was flavoured with sweet woodruff (Galium odoratum) and the top churned with sea-buckthorn juice and a little maple syrup (Acer saccharum). Leftover topping was frozen as a tangy sea-buckthorn ice cream.
Hazelnut & carragheen panna cotta
That is an incredible 32 other-than-human species who treated us Homo not-so-sapiens to a very special Christmas. Nature blesses us humans with not just food but life itself. Without the plants that make food from sunlight there would be absolutely no animal life on earth. They are the first step of the food chain that nourishes us all and bacteria are the last, recycling us to the soil. We live on in an amazing world and we all need to take better care of it - whether we eat wild food or not. The turbulent times that we live in demand not just our attention but our action.
So my blessing to you for 2021: May your connection with nature and our amazing planet ever deepen, nourish and sustain you, and may you return to nature the love that you are shown. There is hope!
More information to visit our Herbalist
***Content of this blog/website is for information purpose only. It is not intended to substitute for legal or medical advice, or medical treatment or diagnosis. Consult your health care provider if you are experiencing any symptoms and before using any herbal product or beginning a new health regimen. When wildcrafting or foraging for plants, do so ethically; be accompanied by an expert; and always have absolute certainty of plant identification before using or consuming any herbs. by using any or all of this information, you do so at your own risk. No warranties are expressed or implied. Any application of the material provided is at the reader's discretion and is his or her sole responsibility.