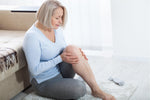 The bones and joints in our body are subjected to wear and tear while we perform routine activities. Intense workout sessions can also contribute to the damage of these tissues.
Hence, it is important to ensure your bones and joints receive adequate nutritional support to strengthen their structural integrity and improve functional range.
Here are some of the best herbs and nutritious foods you can include in your diet for strong and healthy bones and joints. 
Turmeric
Turmeric is revered for its natural medicinal potential that could be primarily attributed to the rich amount of curcumin present in it. [1]
Turmeric protects against inflammation and oxidative stress, ultimately helping to minimise  joint pains and restriction of movement.
Regular use of this wonderful healing herb could make a difference to your overall bone health and enable you to stay fit and active for years to come.
Black Pepper
Black Pepper has shown immense potential in protecting the bones and joints against wear and tear.
The natural antioxidant and anti-inflammatory properties of this herb could help to keep your bones strong by accelerating healing. Black pepper can slow down the degeneration process, inflammation, oxidative stress, and wear and tear in the bones and joints. [2]
Red clover
The oestrogen-like compounds called formononetin in red clover help to reduce the negative effect of hormonal imbalances on bone health. It can help to improve bone mineral density and inhibit the progress of osteoporosis. [3]
Black cohosh
Research studies have shown that black cohosh possesses the natural medicinal potential to promote bone formation processes and reduce the risk of osteoporosis and other joint disorders like arthritis. [4]
Horsetail
Degenerative disorders affecting the bones and joints such as lumbar spondylosis can be avoided by using herbs in your daily diet like Horsetail. This herb possesses powerful regenerative properties that could help to slow down age-related bone loss thus maintaining optimum bone health. [5]
Arnica montana
Arnica montana is a natural herbal remedy commonly used for managing injuries to the bones and even fractures and bruising. It helps to promote faster healing of the bones by accelerating the regeneration of new cells in the affected tissues. Arnica is widely available as a homeopathic remedy or as an added extract in creams and topical gels and balms. [6]
Conclusion
Regular use of this wonderful selection of nutrient dense herbs such as turmeric and black pepper could help to protect you against the risk of bone and joint diseases.
References: 
https://pubmed.ncbi.nlm.nih.gov/31506168/
https://www.ncbi.nlm.nih.gov/pmc/articles/PMC2688199/
https://www.ncbi.nlm.nih.gov/pubmed/23762138
https://www.ncbi.nlm.nih.gov/pubmed/18555764
https://www.ncbi.nlm.nih.gov/pmc/articles/PMC5512407/
https://www.ncbi.nlm.nih.gov/pmc/articles/PMC5512407/
***Content of this blog/website is for information purpose only. It is not intended to substitute for legal or medical advice, or medical treatment or diagnosis. Consult your health care provider if you are experiencing any symptoms and before using any herbal product or beginning a new health regimen. When wildcrafting or foraging for plants, do so ethically; be accompanied by an expert; and always have absolute certainty of plant identification before using or consuming any herbs. by using any or all of this information, you do so at your own risk. No warranties are expressed or implied. Any application of the material provided is at the reader's discretion and is his or her sole responsibility.