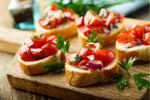 Capsicum is the species of pepper plants that include the sweet and bell peppers. The vegetable has some connection with the Americas but is used internationally in famous cuisines and natural remedies. Capsicums are commonly found to be sweet and tangy, but their green form is bitter than the other ones like yellow, red, purple, and orange. Generally, it's seen that capsicum is used with rice or alone, but have you ever tried making its sandwiches? If not, here is what we are going to share with you: 
Capsicum Sandwich Recipe:
You can make these sandwiches at breakfast time, a great way to start the day healthy by adding veggies to your meal! These capsicum sandwiches are not spicy, so are even kid-friendly. They are fairly easy to prepare as well.

Ingredients:

8 slices of bread, making sure it is a multigrain, oats, or wheat type.

2 teaspoons chopped onions

3 tablespoons finely chopped tomatoes

32 g cup finely chopped capsicum and mix with the onion and tomato 

 

1 crushed garlic

80g cheese. You can use processed cheese or mozzarella cheese as well.

¼ teaspoon of black pepper powder, or a

preferred

amount

1 teaspoon of dry oregano

½ tablespoon chopped basil leaves

Salt, or to taste

Butter, or to taste
Preparation    

Add two tablespoons chopped onions, 3 tablespoon tomatoes, and ¼ capsicum

Now add the cheese.

Add seasoning using the ¼ tablespoon of black pepper powder, 1 teaspoon of dry oregano, and 1 teaspoon of dry basil. You can also use chopped basil leaves if you don't have dry basil.

 

Mix all together and check its taste and add salt accordingly. 

 
Making Sandwich:
Spread butter on the bread slices.

 
Spread the capsicum tomato filling on half of the slices. 

 

Now cover using the remaining half of the slices

 

Grill the sandwich in an electric grill till it gets a golden colour. It will become crisp and when both sides are golden or brown

 

It's time to spread butter on the sandwich top. It's not mandatory, but it does taste good!

 

Serve with tomato ketchup or chilli sauce.



Capsicum food recipes have numerous health benefits such as keeping your eyes strong, as capsicums are a rich source of lutein and zeaxanthin. Your anxiety level will be decreased in a healthy way by using it in your food. The vegetable is full of Vitamin C and helps you strengthen your immune system.