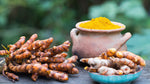 Turmeric
Not all turmeric is created equal and to get the most out of your turmeric, our turmeric* is produced from organically-grown sources. Additionally, black pepper plays a key role in increasing the absorption of curcumin and other curcuminoid nutrients found in turmeric.
There are many products selling online which are labelled as containing Turmeric with Black Pepper in capsule form, however they are generally half the strength. Most often do not actually mention the strength/amount of active curcumin/curcuminoids in their products, or just mention the  total amount of turmeric used. Different processing techniques result in significant variances in the quality and quantity of turmeric in rival products.
Our Turmeric and Black Pepper* has:
Capsules that contain 1,000mg equivalent of Turmeric, made up of 33.3mg of a 30:1 extract. The Turmeric provides 95% curcumin, thus each capsule contains 31.63mg of active curcumin.
The capsule also contains 500mg equivalent of Black Pepper, made up of 18.52mg of 27:1 extract. The Black Pepper provides 95% piperine, thus in each capsule there is 17.6mg of active piperine. 
(* from organically-grown sources)
***Content of this blog/website is for information purpose only. It is not intended to substitute for legal or medical advice, or medical treatment or diagnosis. Consult your health care provider if you are experiencing any symptoms and before using any herbal product or beginning a new health regimen. When wildcrafting or foraging for plants, do so ethically; be accompanied by an expert; and always have absolute certainty of plant identification before using or consuming any herbs. by using any or all of this information, you do so at your own risk. No warranties are expressed or implied. Any application of the material provided is at the reader's discretion and is his or her sole responsibility.