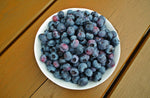 Among the 5 senses, the eyes perceive about 80% of all impressions. So, don't just take your eyes for granted!
Healthy Eyes = Good Vision
Sharp-eyes will help you do well—at home, at work, or behind the wheel. 
It's recommended that you should not compromise your eyes' health. Keeping your eyes healthy becomes doubly imperative in modern times. Smart phone and computer screens have virtually become the core of our daily lives without giving way to any middle ground.
As per a recent Verizon study, on average Americans spend about 9 hours and 39 minutes a day in front of a screen. And this excludes our casual mobile usage time!
Now just try to imagining the impact on your eyesight! Needless to say, our eyes need more protection in the fight against this kind of daily exposure. 
Fear not, as we understand that in busy on-the-go lifestyles, it's hard to give any attention to your eyes. Simply by adopting healthier lifestyle choices as well as healthier foods, you can reduce the risk for developing eye conditions that may turn severe if left untreated. By adding Bilberries to your diet, you can potentially avoid serious eye conditions,
You will be surprised to know that just eating a serving of bilberry you can prevent eye conditions such as:
Pale eyes

Inflamed eyes

Dry eyes

Watery eyes

Cloudy vision

Glaucoma

Irritation

Age-related macular degeneration

Double Vision

Poor night vision
Your eyes need many types of antioxidants such as vitamins A, C, E, lutein, zinc, zeaxanthin, beta-carotene, omega-3 fatty acids to stay healthy and hydrated. Bilberries are loaded with all of these super antioxidants!
Here we will outline for you one of the easiest and simplest ways to consume bilberry: Smoothies! 
Smoothies are easy, yummy and one of the best ways to incorporate all those nutrients that your eyes need to function properly. The best part is, you can enjoy them your way!
Bilberry eye sharpener recipe with Flaxseeds
Berries are known to have more nutritional value than any other fruit or veg, and are in the category of "Super Food". Packed with the goodness of Vitamin A, Vitamin C, Vitamin E, Zinc and Anthocyanins, bilberries have all the goodness you need to bring your health up a level.
Since they can help reduce impaired vision or inflammation, we are using bilberry as the main ingredients of our recipe. The recipe also contains flax seeds to give the optimal amount of Omega 3 fatty acids.
Ingredients
225g of frozen bilberry
110g of almond milk
110g of non-fat plain Greek yogurt
1 tablespoon of ground flaxseeds
2 tablespoons of honey
How to Prepare
Place all the ingredients in your food processor and blend them all until pureed and smooth, stirring several times in order to catch any lumps. Garnish it further with honey and a few bilberries.
Orange, Basil & Spinach Smoothie
Revered for its restorative effects on eyesight, Spinach is considered as a blessing from mother nature for eye health.  This smoothie is high in nutritional value, with the goodness of lutein and zeaxanthin. Since spinach is a great source of zinc, it will help your body to better absorb the Vitamin A. Not only will this recipe improve your eyesight, it will help rejuvenate your skin's tone and strengthen your abdominal function.
Ingredients
1 Orange
225g Basil
225g Spinach
1 tablespoons of honey
How to Prepare
Place all the ingredients in your food processor and blend them all until combined in to a paste.
Final Words
These recipes not only promote good eyesight but help you get glowing radiant skin, a healthy heart, can assist with optimal weight management, and a happy stomach. You can consume these smoothies as breakfast, lunch, or as part of your pre or post-workout routine. 
Another way to keep your eyes protected from the harshness of the daily environment is to use the eyebright herb which is great herbal medicine for eyes. As its name suggests, the herb is enriched with a great number of antioxidants to benefit eyes with inflammation and irritation issues. Eyebright herb is available in multiple forms such as tablets, capsules, teas, or can be found in some liquid eye drops.
***Content of this blog/website is for information purpose only. It is not intended to substitute for legal or medical advice, or medical treatment or diagnosis. Consult your health care provider if you are experiencing any symptoms and before using any herbal product or beginning a new health regimen. When wildcrafting or foraging for plants, do so ethically; be accompanied by an expert; and always have absolute certainty of plant identification before using or consuming any herbs. by using any or all of this information, you do so at your own risk. No warranties are expressed or implied. Any application of the material provided is at the reader's discretion and is his or her sole responsibility.