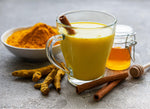 Winter is upon us once again, and rosy cheeked faces will be a common sight in the coming months. However, the coming season has a face you never like to see - Flu and cold!
Fortunately, there are some things you can do to ward off seasonal flu. The best part, it all can be done using things you should already have in your kitchen!
Why don't you try 'Turmeric Ginger Cinnamon Tea', that helps to fight cold, flu and aids in digestion. Although this caffeine-free tea can be enjoyed all year round, it is especially perfect to keep you warm in winters. Delicious hot or cold! This tea may also help to reduce inflammation, support your immune system, ease pain and reduce nausea. 
You need:
Fresh Ginger: Grate a half-inch of fresh ginger.
Fresh Turmeric: Grate a 1 inch piece of turmeric. If you have trouble finding fresh turmeric, substituting with 1/4 teaspoon ground turmeric is fine.
Cinnamon: Use 1/4 teaspoon ground cinnamon. If you have whole cinnamon sticks you could also use one instead.
Fresh Lemon Juice & Honey: you may add some honey and lemon if you want
Milk: you may add some milk if you want
To make this tea:
Step 1. Bring water (more than 4 cups of water ) to a boil and add all the ingredients well for at least 10 minutes. Keep it on medium to low flame. And Let sit and steep for another 15 minutes.
Step 2. Strain the tea in a cup and consume. You may add some honey and lemon if you want.
Step 3. You may also infuse some green tea leaves in the concoction to add-on to the benefits. Or add some milk if you want.
Enjoy your tea !
***Content of this blog/website is for information purpose only. It is not intended to substitute for legal or medical advice, or medical treatment or diagnosis. Consult your health care provider if you are experiencing any symptoms and before using any herbal product or beginning a new health regimen. When wildcrafting or foraging for plants, do so ethically; be accompanied by an expert; and always have absolute certainty of plant identification before using or consuming any herbs. by using any or all of this information, you do so at your own risk. No warranties are expressed or implied. Any application of the material provided is at the reader's discretion and is his or her sole responsibility.