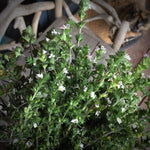 This tiny plant is full of surprises. Eyebright (Euphrasia officinalis) is very modest, so much so that you may hardly notice her but is flowering now, so worth looking out for. She is found on undernourished soils in heathland, old quarries, railway tracks and gravelly places. 
Add a freshly picked handful of eyebright to a cafetière and pour boiling water over to infuse. This tea is surprisingly sweet - like butterscotch. In fact so delicious that I'm not only drinking the tea hot but diluting it into my drinking water too. And I'm dreaming of infusing eyebright into milk and making an Angel Delight-style eyebright custard dessert!
Obviously, having had a name like 'eye-bright' for centuries gives us a huge clue as to her medicinal properties. Eyebright strengthens eyes and vision, protects the eyes from oxidative stress and damage, reduces inflammation in corneal cells, helps resolve eye infections, and soothes dry eyes and itchy eyes - both in eye drops like Vogel's Eye Drops and when added to hay fever tea blends like Napiers Summertime Tea.
More information to visit our Herbalist
***Content of this blog/website is for information purpose only. It is not intended to substitute for legal or medical advice, or medical treatment or diagnosis. Consult your health care provider if you are experiencing any symptoms and before using any herbal product or beginning a new health regimen. When wildcrafting or foraging for plants, do so ethically; be accompanied by an expert; and always have absolute certainty of plant identification before using or consuming any herbs. by using any or all of this information, you do so at your own risk. No warranties are expressed or implied. Any application of the material provided is at the reader's discretion and is his or her sole responsibility.