Common sorrel (Rumex acetosa) is always to be found. It lurks in clumps by the grasses in pasture and is often found around aging dock stalks as if they offer it special protection or perhaps a mineral boost. Dock has a long taproot which, like dandelion, can bring up minerals from deep underground. Sorrel tastes like green apple skin and lemon. Tart, fresh, tasty.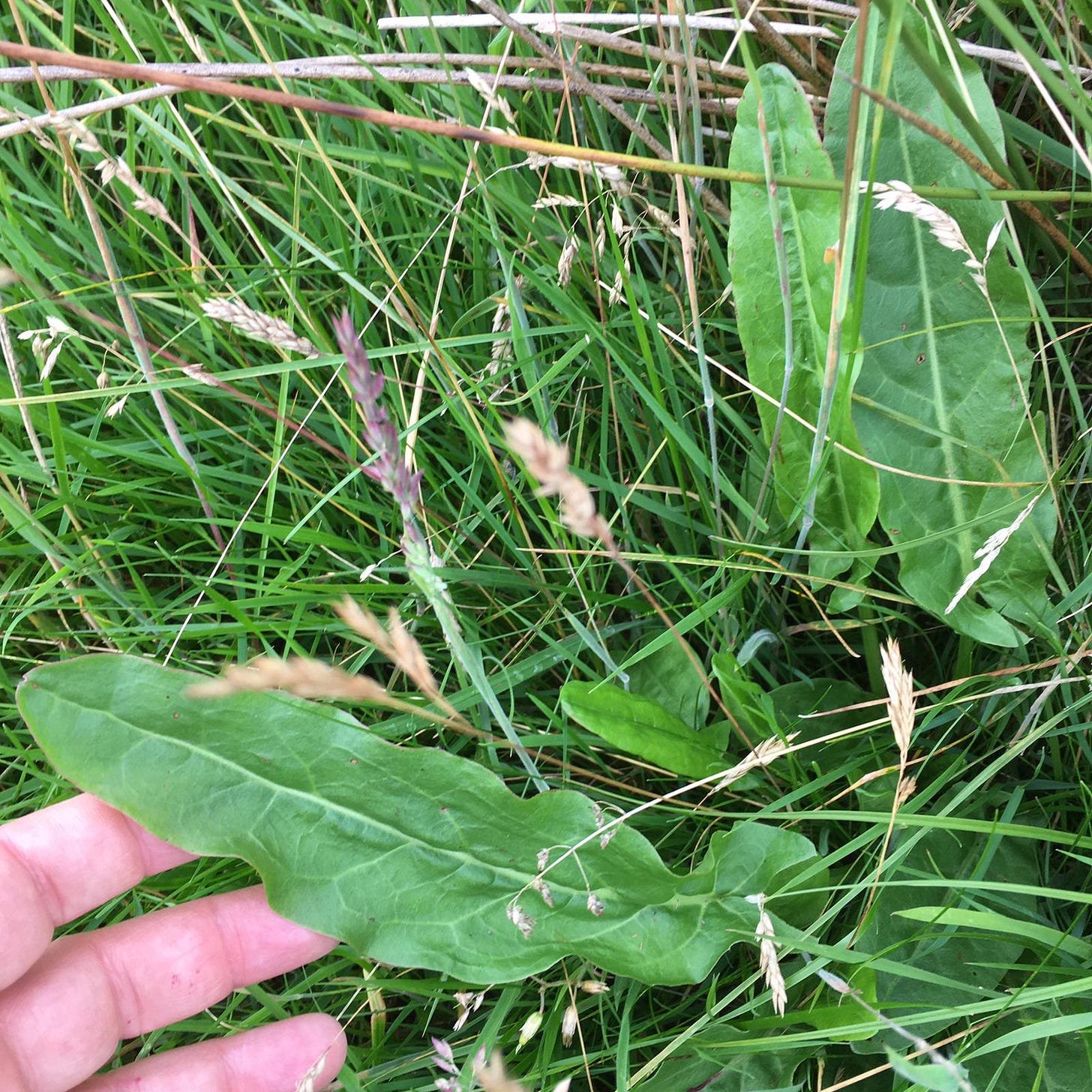 Wild Sorrel Leaves
Traditionally, sorrel sauce was made to accompany fish. I also use it with roast lamb instead of mint sauce on the rare occasion that I cook it. Two summers ago, I had the opportunity to teach foraging in northern Norway - high up where the Arctic circle meets the breathtakingly beautiful Vesterålen islands. After the foraging we all gathered to prepare a meal together. A Finnish fisherman had contributed a whole cod's liver to the meal. I had never cooked one before. Fishy and fatty - overlaid with childhood memories of the horrors of cod liver oil - it had never attracted me to say the least.
Confronted with this very large slab of it I had to think fast!
I boiled up a big pan of water - part fresh, part salty seawater - with handfuls of seaweed - young, broad, green tangle (Laminaria digitata), some young eggwrack (Ascophyllum nodosum), plenty of alexanders (Smyrnium olusatrum), a few cow parsley (Anthriscus sylvestris) leaves, some green juniper berries (Juniperus communis) and rock samphire (Crithmummaritimum) to make a fragrant stock.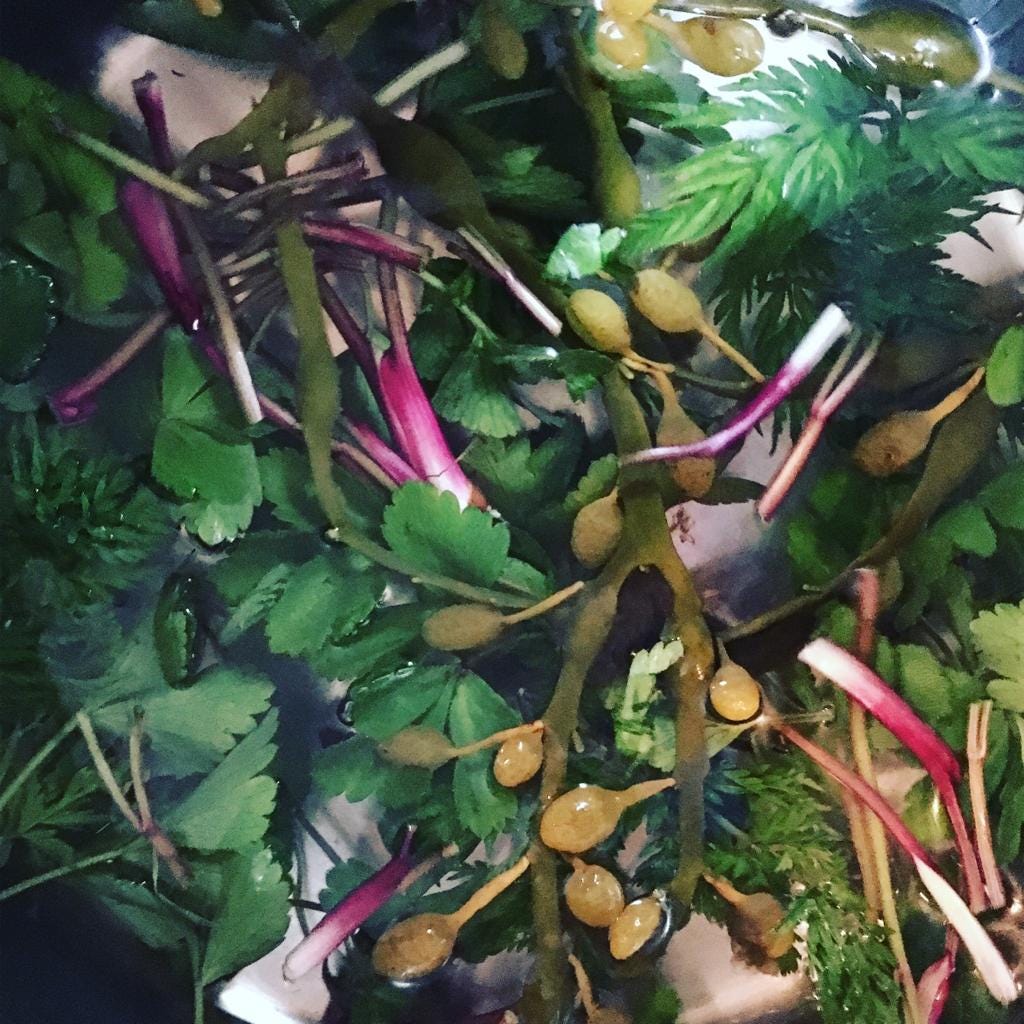 The poaching herbs used to boil the cod liver
When it was simmering and the wild herbs were well-infused, I poached the cod's liver until tender. It didn't take long. To cut through the rich fattiness I served it with a thick, vibrant-green sorrel sauce. It was the perfect accompaniment! The fisherman commented that it was the best way he'd ever tasted it and I can now highly recommend cod's liver as a starter dish!
Cod liver with sorrel pesto sauce
Quick Sorrel Pesto Sauce
 

Recipe

4 C. fresh sorrel, leaves and stems
1/4 C. young ground elder leaves or parsley
1/2 C. olive oil
1/2 t. sea salt

The process for this is simple. Put all your ingredients in a blender and wazz it up until it reaches a desired consistency. If you want it drier like a pesto, use less olive oil. If you want it more like a sauce, add some lemon juice or water. If you want a pesto, add a nut! Anything goes really. Dandelion leaves would give a nice peppery punch.

Check out this recipe for a sorrel hollandaise sauce on my website that is particularly good with fish.

More information visit to our Herbalist

 

***Content of this blog/website is for information purpose only. It is not intended to substitute for legal or medical advice, or medical treatment or diagnosis. Consult your health care provider if you are experiencing any symptoms and before using any herbal product or beginning a new health regimen. When wildcrafting or foraging for plants, do so ethically; be accompanied by an expert; and always have absolute certainty of plant identification before using or consuming any herbs. by using any or all of this information, you do so at your own risk. No warranties are expressed or implied. Any application of the material provided is at the reader's discretion and is his or her sole responsibility.