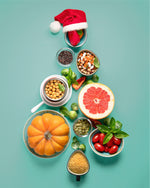 As you all know, the holiday season is the most amazing time of the year filled with family and friends. However, everyone is busier than usual and struggles to control their eating schedules because of tempting sweets and delicious food. It isn't easy to maintain healthy eating habits during this time.
On average, people gain around 1-3 pounds (1.36kg) of weight during the holiday season as this season contains a lot of weddings, work gatherings and family parties. But this year due to COVID-19 there may not be as many parties, but still, there are some and some of us will still be entertaining for up to 3 households.
If a person reverts to unhealthy habits, then it becomes very challenging for them to get back on track with their diet and nutrition. So make sure that you continue your healthy eating habits even on holidays for optimal health.
Below are some top tips to stay healthy this Christmas:
Many people suffer from overeating at Christmas time. Overeating can lead to many digestive troubles. Try to eat slowly and mindfully to know when you've had enough food. Distance yourself from meats, desserts, and appetizers as much as you can. Drink plenty of water to improve your digestion. Do not try to eat everything you have on the table. Try to control the temptation. You will feel better for it!
At parties or functions, do not ignore fruits and vegetables. They are great snacks and even better main dishes. Make sure you have plenty of fruits and vegetables on your plate unless they are dipped in butter, sauce or creams. Fibre is important for healthy digestion. We recommend trying to include a variety of at least 10 fruits and vegetables daily to make sure you are getting a broad range of vitamins and nutrients in your diet.
There will be several occasions to raise a glass with family and friends over the coming weeks. If you really want to maintain your health, try to reduce your alcohol consumption or avoid it if you can. Alcohol increases your appetite and reduces the ability to control what you eat. It is better to avoid this situation rather than regretting later.
Following are Some Healthy Gift Ideas For Your Loved Ones:
As you know, the holiday season is around the corner, and you are likely planning to give gifts to your nearest and dearest. This time why not give something healthy to the ones you really care about. This year give healthy gifts to your family and friends and encourage weight loss, exercise and healthy habits to bring forward into the New Year.
This festive season gift good health to your loved ones:
You can give a basket which contains different types of fruits and vegetables. You can include apples, strawberries, red grapes, oranges, broccoli, cucumber, carrots and much more. This gift will definitely put a smile on your loved one's face and let them know that their health and wellbeing matters to you!
Ginger: A wonderful ingredient for your gut health:
Ginger can be used in many things for many reasons and is beneficial for your health. Ginger will help to ease nausea, regulate blood sugar levels and relieve indigestion. You can also give your loved ones a basket full of healthy ingredients which include:
Healthy snacks
Herbal teas
Food Supplements
Ginger honey tea
Conclusion
Maintaining healthy habits is necessary to promote good health, especially during the holiday season. Try not to compromise your routine and eat as healthily as you can. Further, for any information or health consultancy feel free to contact us.
***Content of this blog/website is for information purpose only. It is not intended to substitute for legal or medical advice, or medical treatment or diagnosis. Consult your health care provider if you are experiencing any symptoms and before using any herbal product or beginning a new health regimen. When wildcrafting or foraging for plants, do so ethically; be accompanied by an expert; and always have absolute certainty of plant identification before using or consuming any herbs. by using any or all of this information, you do so at your own risk. No warranties are expressed or implied. Any application of the material provided is at the reader's discretion and is his or her sole responsibility.