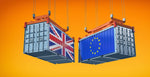 From 1st January 2021, our online sales to EU customers who reside at an EU address, have been treated as exports from the UK.
All our goods shipped from the UK to EU are now subject to new regulations, customs, and duties resulting from Brexit.
The following changes have been taken place from 1st January 2021:
No UK VAT: No UK VAT on orders shipped from the UK to the EU, provided that the EU customer will import to their location outside the UK. 
Import VAT and duties: Buyers are responsible for paying any applicable import VAT and duties on orders shipped from the UK to the EU, and Buyers will be contacted by local customs for payment when your goods arrive in your EU county. Please contact your local customs agencies for more details.
We will continue to work on providing the best online shopping solution to our customers. We'll keep you posted on additional developments, if any.
***Content of this blog/website is for information purpose only. It is not intended to substitute for legal or medical advice, or medical treatment or diagnosis. Consult your health care provider if you are experiencing any symptoms and before using any herbal product or beginning a new health regimen. When wildcrafting or foraging for plants, do so ethically; be accompanied by an expert; and always have absolute certainty of plant identification before using or consuming any herbs. by using any or all of this information, you do so at your own risk. No warranties are expressed or implied. Any application of the material provided is at the reader's discretion and is his or her sole responsibility.