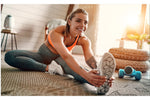 Besides a runny nose and excessive sneezing, what do a dozen people with a cold or flu bug have in common? Chances are that before they came down with the sniffles, they were working long hours, eating on-the-go, getting little sleep and operating at full-speed ahead. Many winter afflictions creep up on us in times of stress, when we're pushing ourselves too hard. This is especially true during the time of Covid. To look after our physical and mental health, it's crucial to prioritise self-care, and we'll help you become a total pro with these top tips.  
1. Be More Mindful:
Mindfulness is the practice of paying attention to the present moment without judgement, and it's been proven to change the brain and body in a number of beneficial ways, including reduced inflammation, supercharged immunity and improved mental health. A great way to introduce mindfulness meditation to your daily routine is to use a free app like Insight Timer. Track your progress and set meditation timers with a choice of calming sounds. 
2. Get Moving:
If you're feeling run down, it can be hard to find the motivation to exercise. But the long list of benefits is hard to ignore - everything from helping you fight infections like colds and flu, increasing your blood flow, to helping your immune system to perform better. With current Covid-19 restrictions, it's much harder to get the exercise you need. But just a short session at home will work wonders. Check out Joe Wicks's YouTube channel for loads of free and easy exercise classes you can try with no equipment needed.  
3. Wind Down Before Bed
Many of us have been suffering with insomnia during the pandemic, because we are not getting outside as often or having the level of human interaction that we are accustomed to. But sleep is vitally important for almost every system in the body. Good quality sleep strengthens the immune system, whilst a lack of sleep can contribute to you picking up infections such as colds and flu. It's important to get into a mindset that will aid sleep each evening. Try limiting the amount of time you spend watching the news, turn off your screens, read a book, do some mindfulness meditation or have a bath. 
4. Recharge with a Herbal Supplement:
If you've run out of batteries, or have symptoms of chronic stress such as fatigue, then cooking and eating healthy meals every day can be a challenge. That's where an all-inclusive health supplement comes in. Sublyme Vitality+ contains the full range of vitamins from A to K, as well as important minerals including magnesium, zinc, manganese, selenium, copper and iodine. In addition, it has amino acids which are crucial for supporting your immune function, energy levels and cognitive function. 
5. Learn Yoga:
No matter how hectic your schedule might be, a regular yoga practice provides a gentle, natural means of supporting your immune system on a daily basis. Yoga helps lower the production of stress hormones, conditions the lungs and respiratory tract, stimulates the lymphatic system to remove toxins from the body, and improves blood flow to ensure your organs can function correctly. Yoga With Adriene has become very popular during the pandemic and is a great, gentle way to give yoga a try! 
Have you been neglecting your self-care during the pandemic? If you want to support your health naturally and help to recharge your batteries, check out our product range here.